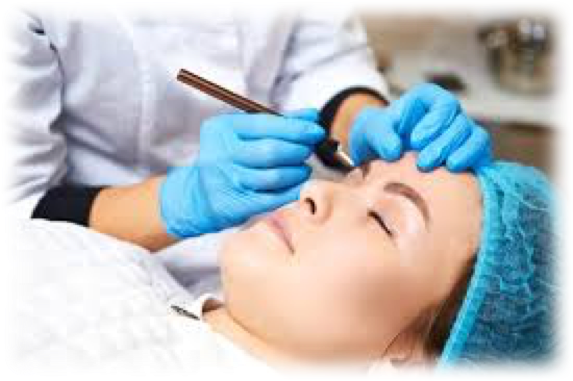 More and more people are looking to have beautiful natural looking brows, that are low maintenance and look perfect from the moment they get up in the morning.
This look is something that only Microblading can achieve…..
and it takes a well-trained technician to achieve this look.
Traditional Cosmetic Tattoo or Semi- Permanent Make-Up (SPMU) treatments, use a machine, but with Microblading we use a small handheld tool that enables us to meticulously create fine, individual hair strokes, so your completed brows look like they are literally your own real hair.
WHAT CAN YOU EXPECT?
I have been trained by a Highly professional company, who are leaders in the field of SPMU and Facial Aesthetics, called Epibrow.
My training was to an incredibly high standard and on a 1 to 1 basis, and as part of my course I have also been trained, and am insured, to legally numb the area of the brows that I will be working on, and in addition I am certified to use a product called Epinephrine (Topical Adrenaline) on the area. The purpose of this is to provide further comfort to you as my client, to encourage the skin to heal faster, minimize any bleeding and to help the skin to retain the pigment. This assures that you have a much more defined result, with finer detailing, less likelihood of blurring and minimal fade with your finished brow. Many Microblading practitioners do not hold this certification, in fact I am the first person to hold this accreditation in Cornwall. I believe in offering the best to my clients and want to ensure that your results and comfort are paramount during and after your treatment with me.
YOUR COURSE OF TREATMENTS
CONSULTATION APPOINTMENT
(approx. 45 minutes)
At your first appointment, we will go through a detailed consultation so I can ascertain if the treatment is suitable for you.
This includes a medical questionnaire and a patch test of the products I will be using, to ensure that there are no reasons or reactions that will prevent you from having the treatment.
We will then look at your preferred brow shape,
and colour match the pigment choices I will use to reflect this.
I encourage you to bring in any eye pencil/powders that you might currently use so I can see the colour and shape that you like your brows to be.
Alternatively, please feel free to bring along any pictures from magazines or Pinterest that you can find of the type of brows that you would like. I will always be totally honest with you if I believe that a certain style or shape will not work for your face, I withhold the right to refuse to undertake any work that I feel will not suit you, or represent my professional standards.
I want you to leave looking the absolute best version of you - naturally beautiful!
Finally, I will design your brows by marking them on with pencil so you can see the shape that we are going to create, if needed I will also shape and tint your natural brow hair so we have the best canvas to create your Microbladed brows at your next appointment. At this stage it is vital that you are honest with me about the shape, and I am more than happy to adjust the design for you however many times you need me to, until you are 100% happy!!
Your Deposit of £50 will be taken at this stage.
I can accept Card Payments, Cash or Bank Transfers (If made in advance).
Your Treatment appointment will be booked for between 3 days to 1 week later.
THINGS TO AVOID BEFORE YOUR TREATMENT APPOINTMENT
· DO NOT consume alcohol OR take aspirin for 24hrs prior to your Treatment Appointment.
· DO NOT expose your skin to the Sun/Sunbeds 24hrs prior to your appointment.
· DO NOT undergo any Facial Peels / Microdermabrasion or similar mechanical Exfoliation process for 4 weeks prior to treatment,
· DO NOT have any Botox or Dermal Fillers for 4 weeks prior to treatment.
TREATMENT APPOINTMENT
(approx. 1 hour 15 mins)
On arrival for your appointment I will apply a topical numbing cream to your brows and we will spend some time recapping our previous appointment and Consultation, to go through exactly what we are wanting to achieve. I will fully explain the treatment to you, so you are totally comfortable and can relax.
Once the Pre-Numb has taken effect I will clean the area I'm working on and measure and mark out the brows we are going to create for you.
I will never start Blading until you are 100% happy with the drawn design.
I will then use a precision tool – a Microblade – to begin to create tiny, precision hair strokes throughout your brow, to create the look we have designed. The sensation is similar to a little scratch but you shouldn't experience any discomfort.
The Microbladed strokes don't go any deeper than the surface layers of your skin (The Epidermis) unlike a traditional Art Tattoo, where pigment/Ink is taken into a much deeper layer (The Dermis).
These strokes will then be implanted with pigment to create the effect of your own natural brow hair.
I will regularly apply the Topical Adrenaline to the area I am working on to further assure your comfort and the effectiveness of the treatment results while your brows heal.
The treatment itself generally takes around 1hr – 1hr 15mins to complete and will leave you with Instant, highly realistic, natural looking brows.
AFTER THE TREATMENT
As with any Semi-Permanent Make-Up treatment, the design we have created will initially look about 40-50% darker that the colour you have chosen in your consultation.
This it totally normal and the colour will fade within 4-5 days to reveal your chosen colour.
Your skin will now go through 3 stages of healing: HEAL – PEEL – FADE
NEVER fiddle with the tiny scabs that form or be tempted to pick them off, as this can create over-faded or blurred results!
If the area feels dry or itchy in any way, please apply Aloe Vera Gel or a Petroleum free Ointment. (I can recommend these to you if you wish)
THE FIRST 48hrs
· DO NOT wet the brows, or allow yourself to come into any contact with steam (ie- Hot Showers/Baths, Steam rooms etc) Avoid Strong water jets from showers on the brow area for the first week
· DO NOT Fiddle with or unnecessarily touch the area. If you need to dab away any Lymph fluid that might occur (whilst your body heals itself), ensure you use a clean tissue and lightly dab the area – do not rub, pull or use fluffy cotton wool or fabric towels.
· DO NOT apply make-up to your Brow Area – it might appear a little blanched or pinkish, due to the body beginning the healing process, but this is normal and will soon disappear.
· DO NOT partake in any vigorous exercise that is likely to cause you to sweat heavily.
THE FIRST WEEK
· It is really important that any facial products (moisturisers etc) are only used if they are dispensed from a pump top bottle that is 100% air-tight. Creams/lotions in pots or tubes will need to be discarded and replaced as they will contain bacteria that could lead to infection.
· DO NOT use Make-up over your brows for the first week after treatment.
After the first week has passed you may apply your make-up as usual, BUT it must either be dispensed from a pump (eg. Foundations), or brand new to avoid any bacteria being introduced to the area. Wash all your make-up brushes in an anti-bacterial soap (Handwash or washing up liquid often has these properties). Pencils can be sharpened to remove any surface that has previously been open to the air or in contact with the skin. Always use a brand new Make-Up sponge as these are very hard to completely clean and can harbour many bacteria.
· Do not Expose your brows to direct sunlight or use a Sunbed. (Ideally Sun Exposure should be avoided completely for the first 2-3 weeks)
Always use a Moisturiser that contains SPF20 or above, to protect the area from fading. I suggest all my clients introduce a quality Mineral Sunscreen to their skincare regime to protect their brows from fading and ensure the longest lasting results. ( I am happy to recommend any skincare to suit your skin if needed.)
· DO NOT pick or rub the area. Tiny scabs will form over each hair stroke that has been created. This is a natural part of the healing process. The scabs will naturally slough away by themselves and reveal a lighter, clean hair stroke if not tampered with. If the area feels dry or itchy, gently apply a recommended lotion with a cotton bud.
FURTHER AFTERCARE
Giving Blood
The Red Cross have suggested that you do not give blood for 6 months after your treatment.
MRI Scans
This procedure will show up on a scan. Some clients can experience a tingling sensation in the area. Please inform your radiologist.
Injectables
Botox & Dermal Fillers can alter the shape of the brows and should be done 4 weeks prior to treatment.
Facial Peels / Microdermabrasion
Any strong facial exfoliants, peels, microdermabrasion etc type treatments can enhance the fade of pigment from your brows. A treatment cannot be carried out on a client who has had a recent treatment of this kind as the skin will be too thin and sensitive. I recommend waiting at least 4 weeks before commencing with your Microblading.
IT IS IMPORTANT TO CONTACT ME IMMEDIATELY IF YOU FEEL YOUR PROCEEDURE IS NOT HEALING AS LISTED AND EXPLAINED.
6 WEEK FOLLOW UP
After 6 weeks the skin will have completely healed and the pigment settled into the skin. The initial result can sometimes be quite faded – this is completely normal.
Even if you feel your brows are looking good, it is essential to come back for a follow up appointment to PERFECT your brows. This can involve adding more hair strokes, warming or cooling the colour we have achieved and / or adding a 'Blush' through the brow.
(A Blush will give the effect of a make-up 'powdered' finish and will last upto 4 months).
The Aftercare and healing process will be the same and should be adhered to exactly as in your first treatment. This top-up is essential for the longevity of your results, and must always be scheduled.
You're done!
You can now enjoy beautiful, natural looking brows with no effort or fuss every single day! Effortless Beauty is what I want to help you achieve…….
After 12-18 months, you will want to come back for a Top-Up service to keep them looking their absolute best, and you could even pop in every 4 months for a 'Brow Blush' to keep that powdered look fresh and beautiful, or a bi-monthly Hello Henna treatment to tint any existing hair growth and keep any unwanted hairs at bay.
Thank you for choosing me to be your Brow Technician!!
Jess. x